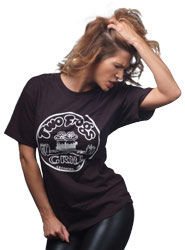 All About the Atmosphere!
Two Frogs is the place for parties, quiet evenings, occasional live music, and some of the best all around food in Ardmore!
Right off I-35, exit 31A, Two Frogs Grill has some of the best food you can find in Oklahoma. Sauces and seasonings are inhouse secrets, fresh meats are brought in daily and don't be surprised in you see some big names in the music industry pop in and out from time to time.
If you are just looking for a quiet afternoon lunch or a fun packed evening, we have you covered. Our knowledgeable staff will make sure you are as comfortable as possible.
If you want ocassional music, food or a good sized mix of the two come in and join the fun!
Tickets
We are an official StubWire outlet and you can purchase your tickets straight from us! Whether it's an event we are hosting or another venue in the area you can count on us to get you somewhere fun. There are all kinds of events locally you might be interested in. Take a look and join in the fun!
We offer tons of services, just contact us!
Catering
Parties
Live Events
(580) 226-3764
Exit 31A, I-35
2646 West Broadway Street
Ardmore, OK 73401